I noticed three interesting phenomena as I made this rice flour recipe for blueberry muffins for the first time:
Rice flour expaaaaands…just like how your stomach feels full after eating rice. I scooped some of the batter into my muffin pan, turned away for a minute, and by the time I came back to the pan the batter had already risen about half an inch up to the rims of the wells. While still on the counter!
The kitchen smells like rice while baking. I know this one doesn't sound like much of an "aha" but it didn't really occur to me that there would be any aromatic differences versus my regular wheat flour muffins. That's mainly because of notable phenomenon #3…
Rice flour doesn't really have much flavor. At least not white rice flour and at least not compared to wheat flour. It does have some taste to it but it's really mild. It's for this reason that I'm extra glad I decided to grate in some lime zest which added a little more flavor. To its credit, the rice flour did have a touch more texture to it than wheat flour, like a little nutty graininess along the lines of fine cornmeal.
So why did I venture into Blueberry Rice Muffins in the first place? I'd bought rice flour for a breaded chicken dish I made recently (rice flour, it turns out, makes for extra-crunchy breading – especially when used in conjunction with Japanese panko breadcrumbs!) and there was a blueberry muffin recipe printed on the side of the package. They came out just as light as wheat flour muffins and are a terrific gluten-free alternative if you're ever baking for someone who needs to avoid gluten.
Beside the lime zest I also added a streusel topping, inspired by Barbara from Barbara Bakes who says, "Muffins without a streusel topping are kind of like cupcakes without frosting. Delicious without it, but irresistible with it." I'm inclined to agree.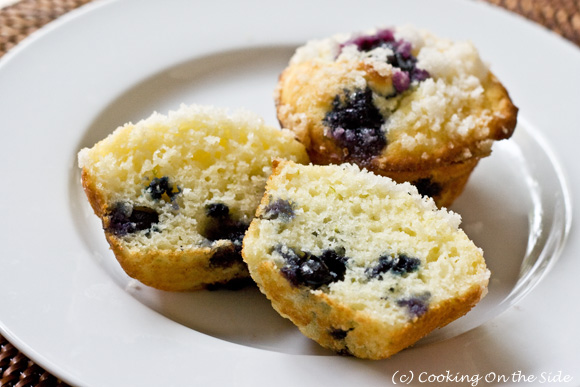 Blueberry Rice Muffins
Adapted from the Sue's White Rice Muffins recipe on the side of the Bob's Red Mill White Rice Flour package. Streusel topping adapted from Barbara Bakes.
Prep time: 15 min | Cook time: 20 min | Total time: 35 min
Yield: 6 muffins
INGREDIENTS:
For the streusel topping:
2 tablespoons

sugar

1 1/2 teaspoons

white rice flour

1 teaspoon

canola oil
For the muffins:
1

egg

1/2 cup

milk

2 tablespoons

sugar

2 tablespoons

canola oil

1 cup

white rice flour

2 teaspoons

baking powder

1/2 teaspoon

salt

1/2 teaspoon

grated lemon or lime zest

1/2 cup

fresh blueberries
DIRECTIONS
Preheat the oven to 425°F.
Lightly grease a 6-cup muffin tin.
Prepare the streusel topping:
In a small bowl, whisk together the sugar and flour. Add oil and mix together until fully incorporated and you have a sandy texture. Set aside.
Prepare the muffins:
In another small bowl, combine white rice flour, sugar, baking powder, salt, lemon or lime zest. Carefully stir in blueberries.
In a medium bowl, mix the egg, milk and canola oil until well blended. Add in the dry ingredients and mix just until combined.
Pour into the prepared muffin tin, filling each well about 2/3 full. Sprinkle muffins with streusel topping. Bake for 15-20 minutes until the edges are slightly browned. Allow muffins to cool for 5 minutes before removing from the tin.