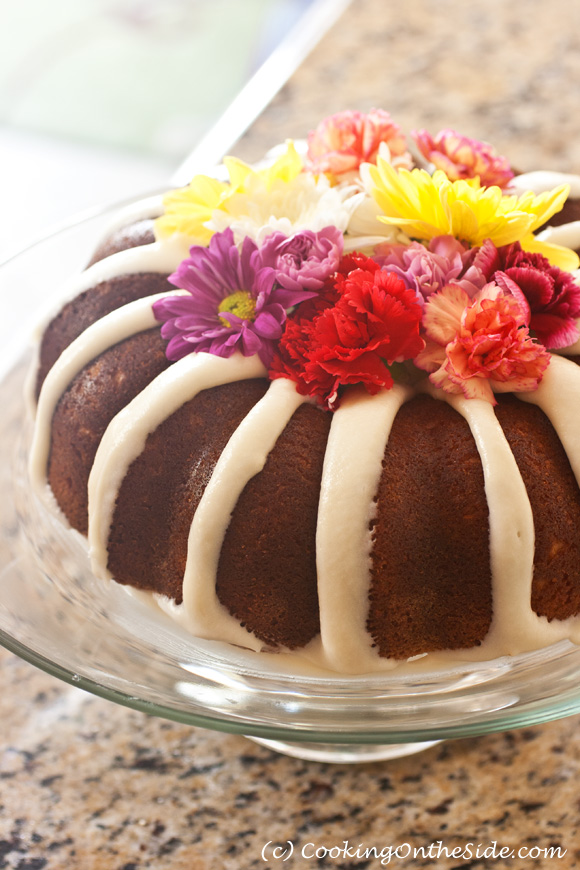 As someone who is known for being a bit of a tornado in the kitchen (ask my husband how many dishes are teetering in the sink after I've been cooking!), I was drawn to a C&H Sugar recipe for an All-in-One Cake that I saw in a magazine ad. "One recipe makes cake and frosting", it promised. That was all the encouragement I needed!
The way the "all-in-one" part works is through a little reordering of the steps it usually takes to bake a cake. You start out with the frosting ingredients — cream cheese, butter, vanilla, powdered sugar and milk — and then scoop out a portion of that mixture to save for frosting. Then you take the remaining frosting and add the rest of the cake ingredients to it (e.g., eggs, dry ingredients and, interestingly, water) and bake it as usual.

The recipe suggests saving the frosting in a resealable plastic bag, which turned out to be highly convenient when it came time to frost the cake. All I had to do was snip off a corner of the bag and squeeze out the frosting (in a Nothing Bundt Cakes-like style!). Since the recipe makes a kind of ordinary-looking cake, I decided to dress it up for spring with some edible flowers (which I've been able to find in the produce section, near herbs — my local Whole Foods has especially nice ones).
The pound cake-like texture on this cake is divine, which I'll attribute to the powdered sugar as well as the cream cheese in the batter. FYI, it's on the sugary side (hello, the recipe comes from a sugar company), but we all enjoyed it nonetheless.
A beautiful cake, with just one bowl to wash — I call that a win!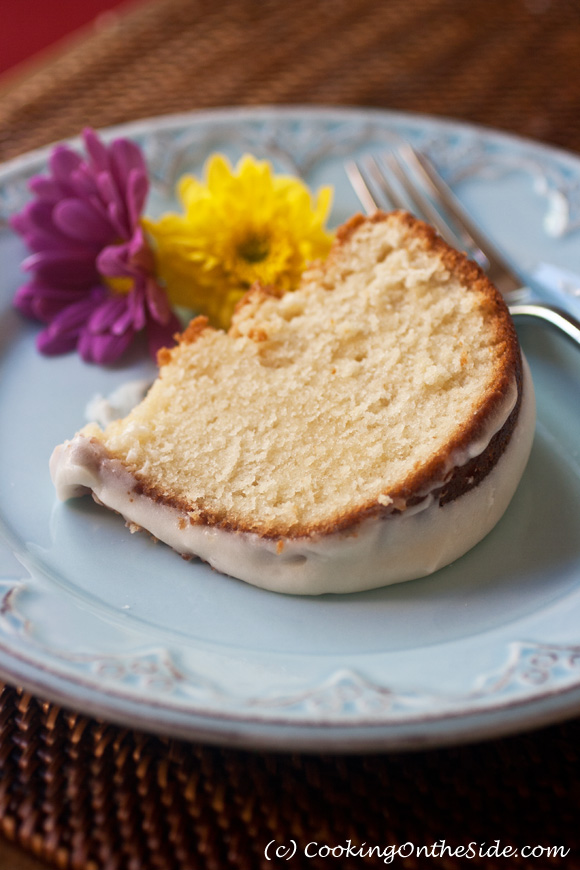 All-in-One Cake
From the All-in-One Cake & Frosting recipe in a C&H Sugar ad in Family Circle
Prep time: 15 minutes | Cook time: 75 minutes | Total time: 1 hour 30 minutes (plus cooling)
Yield: 16 servings
INGREDIENTS:
6 ounces

cream cheese, softened

1 cup

butter, softened (2 sticks)

1 tablespoon

vanilla extract

1 (2 lb.) pkg.

powdered sugar

2/3 cup

milk

4

large eggs, lightly beaten

2 1/2 cups

all-purpose flour

1 teaspoon

baking powder

1/2 teaspoon

salt

2/3 cup

water, room temperature
DIRECTIONS:
Preheat oven to 350°F. Generously grease and flour a 12-cup Bundt baking pan.
Frosting: In a large bowl, beat cream cheese, butter and vanilla; mix well. Add sugar alternately with milk; mix well. Remove 2 1/2 cups of mix, place into a plastic sealable bag; set aside.
Cake: With mixer at slow speed, add eggs to remaining frosting; beat until blended. In separate bowl, combine flour, baking powder and salt. Add flour mixture to mix alternately with water; mix well.
Pour into pan and bake 65-75 minutes or until toothpick inserted in center comes out clean. Cool 30 minutes. While cake is still warm, use a knife to loosen the cake from the sides of the pan. Cool completely before removing from pan. Top with frosting.
NOTE: If you'd like to decorate the cake like I did, simply cut off the corner of the frosting bag and pipe the frosting onto the cake. You can buy edible flowers in the produce department at Whole Foods and other grocery stores (I find them near the herbs).